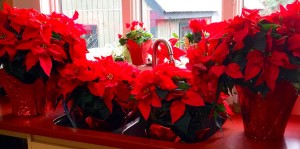 Red was my mother's favorite color. I love blue. For the first week of the Mother-Daughter Way program, we focus on safety: feeling grounded and connected to earth. Within the practice of yoga and energy work, we honor the ethereal body by balancing the chakras. The healing begins with the root chakra, which is associated with the color red and the element earth, or source. Every Christmas, I feel close to my mother when I surround myself with red.
What brings you close to your mothers or daughters during the holidays? Is it a family tradition that was special to you both or perhaps a recipe, smell, or song? Whatever it may be, my wish for you this holiday season is that you give yourself time to pause and receive the gift of each moment.
Last Saturday night I was walking to theatre with friends. We cut through the Kimmel Center on our way to Broad Street, to wait while the others caught up. One of our friends walks slowly, which is fine on balmy nights, but winter's cold had rendered me chilly and slightly impatient.
As we stood in the vaulted lobby of the Kimmel Center, I noticed two women facing each other not far from us. One was the image of modern beauty. Her long dark hair topped a slender, cinch-waisted tower of womanhood, over 6-feet tall, sheathed in a black fitted coat with endless legs on spike heels that emphasized her stature. The lobby was not crowded, and the two caught my eye for their contrast. The other woman was short, under 5-feet tall, with gray, cropped hair. She appeared square with a boxy red coat and sensible shoes that bound her to earth like a fire hydrant.
I asked my friend, who is a physician and sees all body types in his practice, if he thought they could be mother and daughter. He said he didn't know. Then I couched it with, "Or perhaps grandmother and granddaughter."
Although I longed to snap their photo, I didn't want to invade their privacy, so I refrained. We continued chatting and watching for our friend, who wears sensible shoes and walks slowly to tender her knees.
Then the lithe brunette bent and stretched an elegant arm over the gray-haired woman. She positioned her phone for a selfie, and the older woman turned toward the device. They pressed their faces together at the same height. They smiled the same smile with the same features, and my friend said, "Mother and daughter."
There it was– all the years, tears, sacrifice, hope, pride, gratitude and enormous changes that take place over a generation of giving and receiving as family, as mothers and daughters. I wanted to capture that moment so much that I did something I rarely do — I sketched it yesterday in my rough way, and wrote down the bones of the story.
Before my doctor friend and I parted on Saturday night, he gave Paul and me an early Christmas gift — the red cyclamen in the center of the windowsill, pictured above. That was my mother's favorite flower.
People often ask, "Are you a painter like your mother," and I say, "No, I'm a writer." But my mother urged everyone to draw, and there have been times when even this writer uses her pencil to sketch something too elemental and visual for words. So, I've included the drawing, with my wish for you this holiday season: may you pause and receive the gift of the moment in spite of winter's chill and the holiday rush, and may you see yourself as an essential member of the human family, with shared spirit, hopes, and dreams as those around you.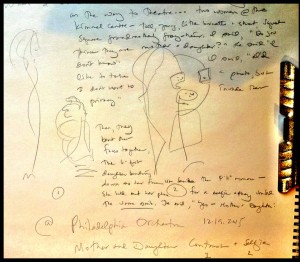 Blessings,