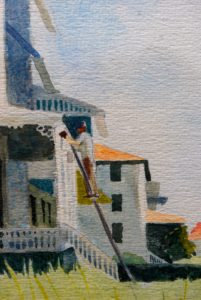 Last year, Paul and I bought the family beach house and these words from my mother's painting class keep me going.
She charged her painting students with this and other pithy sayings when they were blocked. Today, the words seem prophetic.
On the 15th anniversary of my mother's death, my dear husband and I became sole owners of the Cape May house she adored. It's a house that has served generations of our family and friends as a respite, a place of celebration, a center for art and camaraderie, and a dream factory.
Those who have inherited or taken responsibility for a long-held family home (many of my friends are in this category) can probably use this cheery charge. It's the antidote to the warnings we often receive, as in the Tolstoy quote, "All happy families are alike. Each unhappy family is unhappy in its own way." Let's be honest.
Families, houses, and legacies take time, vision, and work.
There are as many ways to manage, neglect, or argue over a beach house as there are families with property and an unrealistic desire for everything to remain the same.  It's an emotional journey to allow the house to change in order to survive and meet current standards.
I thought that by keeping the house in the family, I could keep the family in the house.
Click To Tweet
Perhaps it was a mental trick to keep myself going. But we have grown up and multiplied and our families have spread to the far corners of the earth. This house, though welcoming to family, can no longer accommodate the sheer numbers or hectic schedules of our extended clan.
A Family Beach House as a Kaleidoscope of Memories
Last year, a few months before my father died, he signed the agreement of sale. So did my three siblings. Getting to the settlement table was not easy for any of us, but we made it through. After the family took the furniture, mementos, and treasures they claimed, we re-furnished and planned the renovation. My stomach clenched. I feared to lose the memories.
Then, last winter and spring, we took my mother's advice and did something with the house.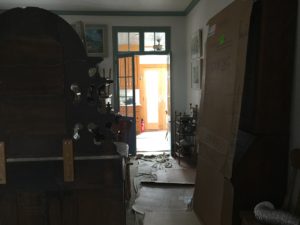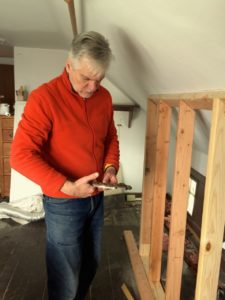 We brought in the exterior water pipes so we joke that now we have "indoor plumbing." A new cast iron stove in the living room warms the chilly days. A local contractor replaced the rusted, 35-year-old heater with an updated, energy efficient unit. I even agreed to the universal demand for air conditioning! But if I have my way, it will be off and the windows will remain open to the sound of the sea and its tonic breeze except on the most stiflingly hot days of summer.
Our historic family beach house is more than just a house, and we're doing something with it.
Shore time has become chore time, with results.
We'll call the house "Ocean Alice's" after the name it was given in the early days of her reign when Cape May opened on Memorial Day and closed after Labor Day. Now Cape May is fabulous year-round, and we're excited to make this special place a welcoming haven through every season.
We'd prepared to share the house with renters, but we didn't want to do it alone. I called Dee Lanzalotti, a realtor my parents knew and trusted. She raved about what we'd done with the house and said that Ellie, a friend of my mother's, was on her rental team. Later we met with Chris Clemans, head of the local Sotheby's office, and Bernadette Matthews of Good Housekeepers, and we felt completely at home.
The angels have aligned. Relief has flooded in. With trusted experts and a detailed checklist of best practices, rules, and amenities, the plan to support our love for the house and its legacy has taken shape.
This house on Congress Street fascinates me, as it did my mother.
She painted the neighborhood for years before she and my father were able to buy this house. When I noticed how often she painted Congress Place, it seemed like a version of real estate stalking.
I've written, photographed, and participated in the ways this house has filled, emptied, closed, and reopened since it came into the family in 1979. When I began to create a short video tour, I used only the most recent pictures. But I will write and create videos about this place and its stories for the rest of my life. Stay tuned!
Welcome to Cape May (the video)
To view the video tour and see what we did with the house, click this link:  Welcome to Ocean Alice's
Let me know what you think! Paul has worked so hard to make the house new while maintaining continuity, and it feels like home to my heart. I look forward to seeing you, and every day I summon the spirit of my parents to say I love them and I am so grateful.
If you have a family home full of stories, I hope you'll post a comment, memory, or photo below.
And remember: It's just a house! Do something with it . . .
Blessings,