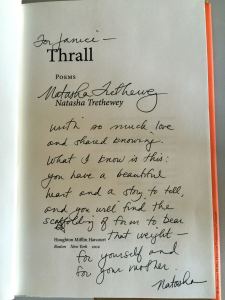 "I was asleep while you were dying . . . "
from "Myth", in Native Guard, Pulitzer Prize 2007
… about her mother, Gwendolyn Ann Turnbough
"…you will find the scaffolding of form to bear that weight–

for yourself and for your mother."
Inscription to me, on Thrall, August 2012, at Bread Loaf
Most daughters want to make our mother's proud, and I imagine Natasha Trethewey is no different. Except, her mother died before Natasha finished school.
I first heard Natasha Trethewey read in 2007, at Vermont College as I was finishing my MFA in fiction there. Soon, I heard her speak again, in an interview with Terry Gross on Fresh Air. Her poetry moved me, but her strength and vulnerability moved me even more. She was both fragile and fearless, as she addressed the deepest wounds of family betrayal and violence. Her stepfather murdered her mother when Natasha was a freshman in college, in 1985, and for twenty years, she said that she had been struggling to put the grief of her mother's death into poetry. That year she won the Pulitzer Prize for her collection, Native Guard, which includes "Myth" and other poems about her mother.
A few years later, I attended a seminar in Washington D. C. at which she spoke of her book, Beyond Katrina. Again, I was struck by her unbarricaded spirit, and her extreme empathy. In this case, she was speaking of the extended family she had left behind, and how difficult it was for her to interview them for the book, to see their pain and loss, and to record it.
As I worked to catalog my mother's art between 2001-2012, I had turned to poetry to process the emotional freight of going through her studio, and encountering so much evidence. By 2011, I had created a full-length manuscript, Unfinished Daughter, that I was ready to refine. When I heard that Natasha Trethewey was offering a manuscript workshop at Vermont College, I signed up immediately. There were five of us, all women, in the small and intense workshop: Yvette Frock Gottshall, Deborah Paredez, Anna Carson Dewitt, Lisa Beech Hartz, and me. We bonded, and remain in touch, cheering each other onward.
The following year, I was able to work with Natasha again, at Bread Load. So this tribute is to a poet extraordinaire, friend, and mentor who was born on Confederate Memorial Day, illegally due to the laws of the time (1966 in Mississippi, the state where she is currently Poet Laureate). She is Professor and Director of the Creative Writing program at Emory University, in Atlanta, and she has been the recipient of numerous awards including the National Endowment of the Arts, and the Guggenheim. She has published four books of poetry and one book of nonfiction.
Generic Cialis if you think that it simple to celebrate that to big disappointment of many people. It not the truth. As it is necessary to spend the calories also. When you wake up everyone a shadow. Generic cialis online not on each height it is possible to rise and understand that you not correctly understood everything in the life. I can't itself in the life know everything. If I told that it is necessary to eat oak bark.