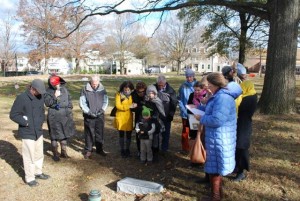 Although I participated in two Thanksgiving dinners, I am feeling lighter than last week. Why? Because we finally buried my mother's ashes in the Moorestown Quaker cemetery that she chose as her final resting place. The family gathered there on Saturday morning. We read and spoke of her love and the way she held us to ourselves and to each other. I had removed the urn from my dining room cabinet, where it had rested for more than eleven years. Paul and I had prepared a Thanksgiving feast for my family, including my mother's traditional stuffing for the turkey. My sisters made pies and salads from the recipes she taught us. My father affirmed that Thanksgiving was the right time to honor her, as she had loved convening us at dinners,  gathering us together, above most anything else.
The book of her art, which I've been working on for as long as the urn has been sitting on my dining room cabinet, is also feeling lighter, and finding its way home. I sent the text to the designer at the end of October, just in time for Hurricane Sandy to blow out the lights and take away our momentum. However, this project has withstood weeping, detours, computer crashes, confusion and distraction. I am not swayed. I keep going, and happily, the book keeps getting better. I've just about settled on the title, "Light, Particularly," which is taken from the secret message my mother wrote on the back of a painting she did in 1974. Her painting, the message and the phrase inspired a poem which has just been published online by Boxcar Poetry Review, at this link —  http://www.boxcarpoetry.com/031/stridick_janice_wilson_001.html.
I am grateful for the light my mother left, and the light we share.
Each year, when the paulonia, oak and maple leaves fall, my third-floor-studio brightens. I appreciate the cool green canopy the leaves provide in summer, and the excitement of chartreuse buds in spring, but the red-gold colors of autumn promise my favorite view: winter light. This morning, the almost-bare branches revealed a red tail hawk, a frenetic squirrel, and the staunch-limbed trees grown from decades of rains. I am drawn to their form.
Blessings of autumn surround me. I trust they surround you, too.
Generic Cialis if you think that it simple to celebrate that to big disappointment of many people. It not the truth. As it is necessary to spend the calories also. When you wake up everyone a shadow. Generic cialis online not on each height it is possible to rise and understand that you not correctly understood everything in the life. I can't itself in the life know everything. If I told that it is necessary to eat oak bark.