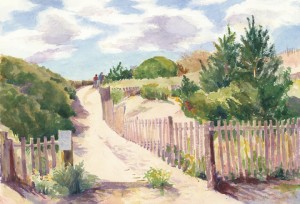 When I saw this painting on Alice's easel, I cried. She was going to die, and she knew it. That's what I saw.
My mother loved what she called "jumping off places" like this path across the dunes to the ocean. I couldn't let the painting out of my life, so I bought it and hung it in my studio. One day I was writing about the painting and I noticed that the two figures crossing the dunes resembled the two of us. My mother was shorter than me, and she favored red. I love blue. The conversation of shapes and colors in this painting illuminated my role as caregiver on her journey to this jumping off place. She didn't want to leave, and I certainly didn't want to let go, but we found joy and purpose in the process.
My book about her artist's life will soon be released nationally by Southbound Press — for me, another jumping off place.
November 8th would have been Alice's 87th birthday, and now it is the birthday of Alice Steer Wilson: Light, Particularly.
Generic Cialis if you think that it simple to celebrate that to big disappointment of many people. It not the truth. As it is necessary to spend the calories also. When you wake up everyone a shadow. Generic cialis online not on each height it is possible to rise and understand that you not correctly understood everything in the life. I can't itself in the life know everything. If I told that it is necessary to eat oak bark.