Today, on the 27th day of Women's History Month, I'm honoring the countless women who provide care for family members, and three outstanding women doctors who touched my life as I cared for my mother and later, my uncle. According to a study by AARP, there are more than 65 million Americans providing $450 billion worth of unpaid caregiving for family members. In the not-too-distant past, women typically acted as nurses or caregivers, while men became doctors. When I grew up in the 1950s and 60s, most of the doctors our family visited were men. Today, my choice of doctors is almost exclusively female, and many of my women friends prefer women doctors.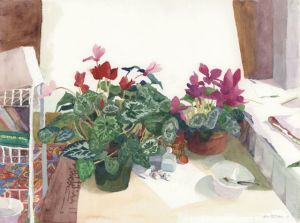 My mother's cancer battle began with Dr. Generosa Grana, Chief of Oncology at Cooper Hospital, and Dr. Diane Barton, her primary care doctor, also affiliated with Cooper Hospital. Dr. Barton was my primary care doctor, too, and she never hesitated to investigate and question any symptom either of us brought her way. Sadly, Dr. Barton died in 2005 of ovarian cancer, but she worked until the end, to the benefit of cancer patients who would follow her. Today, the Diane Barton Complementary Medicine Center offers comfort, inspiration and health giving care to cancer patients and their families throughout the region.
Dr. Generosa Grana was my mother's oncologist, and she is presently an Associate Professor of Medicine at the Robert Wood Johnson Medical School, and Director of the MD Anderson Cancer Center at Cooper. Although she has received numerous awards and published widely, her warmth, strength, and expert advice is never in short supply for patients. In January, 1996, as my mother, sister, and I sat in Dr. Grana's office and received bad news, Dr. Grana delivered the diagnosis with a clear plan of action to fight back. My mother's four-year remission was a glorious reprieve in which she painted, traveled, and made the absolute most of the life she reclaimed. Both Dr. Barton and Dr. Grana added greatly to our confidence and sense of safety as we negotiated the frightening world of chemotherapy, radiation, and all the after-effects. My father told me I should have been a doctor, because I kept such copious notes and files from all these visits. I didn't argue with him, but it never occurred to me to become a doctor; I like to tell stories and make pictures, and as I walked by my mother's side through this baffling journey, I wanted to record the information, not only to negotiate the way for her, but to learn how healing, and language, and interpersonal behavior really worked, on the ground, as opposed to, say, on Marcus Welby, M.D. or Grey's Anatomy.
Two years after my mother died, I learned that my Uncle Jim, her brother, had Parkinson's Disease. He lived alone in Indianapolis, and so I became a long-distance caregiver to him. I travelled regularly to Indiana where I found the amazing Dr. Joanne Wojcieszek, ("call me Dr. Joanne"), Clinical Associate Professor of Neurology and Director of the Movement Disorders Clinic at the Indiana University School of Medicine. She has received many honors, including teaching awards as well as the National Institute of Health Local Legend award, but the reason she's stayed in my heart and mind all these years is the connection she established, immediately, with my shy, unsteady uncle who was in the late stages of Parkinson's Disease when she met him. Her warm, humorous, direct conversation lit him up, and as a caregiver, the gift of hope and structure for a process so fraught with mystery and challenge is a tonic. Her nurse-administrator, Kristy Keller, was equally warm and helpful.
The practice of medicine is not easy, or pretty. But these three outstanding women doctors provided expert care, encouragement, and hope that assisted my mother and my uncle to keep making art and enjoying their friends and family through the fog of chronic illness and medical treatments.
Thank you Dr. Diane Barton, Dr. Genny Grana, and Dr. Joanne Wojcieszek.
Generic Cialis if you think that it simple to celebrate that to big disappointment of many people. It not the truth. As it is necessary to spend the calories also. When you wake up everyone a shadow. Generic cialis online not on each height it is possible to rise and understand that you not correctly understood everything in the life. I can't itself in the life know everything. If I told that it is necessary to eat oak bark.