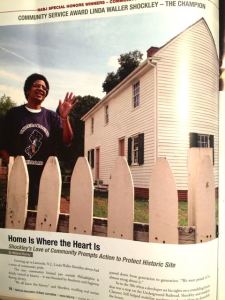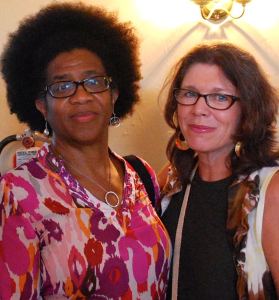 Today, on the fiftieth anniversary of the March on Selma, I'd like to bring to light a woman whose quiet, steady work on behalf of social justice and memory has impressed and inspired me from the time I met her more than twenty years ago. Although her project has not gained the attention of Hollywood, yet, it should. We like to think of our democracy as just and equitable, but these painful stories of oppression, abuse, and prejudice continue to show up in our communities.
Linda Waller Shockley, President of the Lawnside Historical Society,  is a contemporary champion of community and the preservation of places and stories that matter. She turned her love of the oral histories she heard as a girl growing up in Lawnside, New Jersey into a decades-long commitment to give those stories form and a home. Freedmen and fugitives of slavery founded the town in 1840. Lawnside was developed and incorporated as the first independent, self-governing African-American community north of the Mason Dixon line, and it remains the only such municipality in New Jersey.
I met Linda early in my work with Main Street Merchantville and Preservation New Jersey, and she impressed me with her patience, humor and balance in discussions that could easily become rancorous. Historic preservation brings out the sibling rivalry in many folks; the arguments can range from accuracy of history to selection of paint colors to property rights. Marching into this potential mine field of resistance, with no obvious funding, she and founding president Clarence Still formed the Lawnside Historical Society in the 1980s to protect a threatened treasure: the Peter Mott House. This modest dwelling had served as a stop on the Underground Railroad, but was slated for demolition.
Her decades of patience, grant-writing, fund-raising, speaking and organizing on behalf of this important heritage have yielded treasures for generations to come. In 1994, the Mott House was declared a state and national historic site. In 2001, with funds from the New Jersey Historic Trust matched by those raised through grass roots efforts, the restored house was opened as a museum.
In 2007, Linda Waller Shockley was honored by the National Association of Black Journalists (NABJ) for her work. She has received numerous other awards, including the Camden County Girl Scouts Woman of Achievement award. Her service extends beyond the Peter Mott House to the Mount Peace Cemetery, the Lawnside Scholarship Club, the Garden State Association of Black Journalists, Preservation New Jersey, the New Jersey Cultural and Heritage Commission, and in her work as mentor to students interested in journalism. Before she became the Deputy Director of the Dow Jones Newspaper fund, she was an education reporter, bureau chief, columnist, news editor, and city editor for Gannett in Westchester county, N. Y.
Generic Cialis if you think that it simple to celebrate that to big disappointment of many people. It not the truth. As it is necessary to spend the calories also. When you wake up everyone a shadow. Generic cialis online not on each height it is possible to rise and understand that you not correctly understood everything in the life. I can't itself in the life know everything. If I told that it is necessary to eat oak bark.