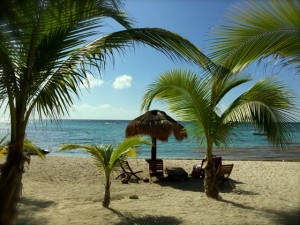 Last week I wrote about the origin of The Mother-Daughter Way, and offered a glimpse of the power of the MOM Fix to shed light on, and reveal alternative endings to painful mother-daughter stories. I'm excited to do this pilot program with a group of interesting, thoughtful women. And I do the entire program right along with them. Yes, I've been doing this work for over fifteen years, and yes, I love the life I am living. But if I fail to cultivate my own self-mothering traits of mindfulness, openness and mercy (as in my MOM Fix), I inevitably drift toward the pissy-insecure-tired syndrome (the PITS). For the fifth week of the workshop, we cultivate openness to possibility by doing exercises to debunk self-limiting beliefs and to learn to trust the universe.
This part of the process includes breaking out of a familiar pattern, which has been identified many times by women writers. Julia Cameron calls it the Virtue Trap. I first recognized it when, in my teens, I read Virginia Woolf's 1931 warning about the Angel in the House as a woman whose success was based on her ability to never have a mind or a wish of her own. She preferred instead to sympathize and defer to the wishes of others. This angel is a phantom who lacks awareness and courage to be true to self; she lacks agency or control of her life. Although Virginia Woolf spoke this warning almost 75 years ago, her words still ring true.
To open up new possibilities and escape the Virtue Trap, we focus on balancing the 4th Chakra, Anahata, which is the heart chakra. This chakra's color is pink or green and the element is air. Supportive activities include practicing yoga poses that open the chest and move your shoulders back and down, wearing or surrounding yourself with something pink or green, taking a walk in a verdant forest, eating healthy green vegetables, going outside for fresh air, breathing deeply, and lightening up.
Anodea Judith, in her book Chakra Yoga, characterizes the 4th chakra as "Unstruck, Unhurt." I love that, because we often speak of a 'broken heart' but in reality, all who live and breathe have a working heart. This week, we take heart and admit the possibility that our self-limiting beliefs are fiction. As we balance the heart chakra, we become unstruck, unhurt: We can do what we dream of doing. We can mend broken stories. We can move away from pain and suffering and into wisdom, joy, peace and productivity.
The yoga poses to cultivate openness to possibility include heart-openers: Sphinx, Cobra and Camel. I also suggest a breath-awareness practice. Decide to stop and take a deep, conscious breath two or three times a day and you may notice how rarely you actually breathe deeply into your lungs and chest.
"Take a Deep Breath!" It's such a MOM trope, this familiar warning to pause and breathe rather than get into a fight. I don't remember my mother saying that (perhaps I wasn't listening). This simple act of mindfulness will help you to stay open and powerful.
If you, or someone you know, would like to go deeper into this conversation, I'm offering a free 10-minute consultation. Also, in the very near future, I'll be announcing a live weekend workshop in Cape May for early March, as the culmination of this Mother-Daughter Way pilot. I expect to be able to open up some seats, so stay tuned.
Wherever you are in your journey, I hope you will reply with your ideas and comments, and join me in releasing self-limiting beliefs, opening your heart, breathing deeply, and shining a green light on your possibilities.