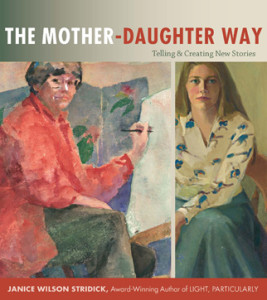 I'm excited to share a work-in-progress, the Mother-Daughter Way, although I rarely do that. This work is highly collaborative, and I welcome your questions, comments and feedback. In the potential cover for the book, my mother sits before a blank canvas in a watercolor self-portrait, "Winter Work," (1994) done in her Merchantville studio. The image on the right is her oil portrait of me, "Jan in Blue," done in 1973 as I prepared to move across the county and start a new life as far away from her as possible.
Although I believe that my mother and I always loved each other, we fought much of the time from my early teens until I moved back east in my early thirties. And then, we rolled up our emotional sleeves and went to work to repair a tattered bond and mine the richness of our shared dreams as powerful women, artists and creators.
The opportunity for mothers and daughters to be honest about the strains and battles and wounds and wishes closest to their hearts is vital. This is exactly what I plan to reveal and celebrate in the seminar, which I will offer online and with a live weekend workshop. I created the structure based on my fifteen years of leading Artist's Way Circles, teaching and practicing Yoga, and delving into the deepest level of personal artistic and emotional history through writing and curating my mother's art legacy. Through spiritual and physical practices, art, poetry and essays my mother and I were able to process and release emotions that held us hostage when we were younger.
As I reflect on the healing process, three profound shifts of attitude made the difference. I call them my MOM Fix because they helped me to find, within myself, the love and acceptance that I looked for from others. They include a shift from autopilot to Mindfulness, avoidance to Openness, and anger to Mercy.
Here's the first part of the "MOM" fix, and I hope it gives you something lovely to think about now, to honor yourself.
M for MINDFULNESS: I became aware of my limits and boundaries in my early thirties, and when I finally recognized and began to honor them, I was able to rebuild my relationship with my mother. It was a simple question that spurred this shift for me.
A sensitive woman asked, after I described a particularly unpleasant holiday visit home, "Janice, if anyone else treated you that way, what would you do?"
I answered without a pause, "I'd never speak to them again."
She said, "Well, why do you accept such treatment from your mother?" The light went on in my head, and I realized I needed to take responsibility for my emotional life and renegotiate, or avoid such meltdowns.
If someone you love treats you in a way that wounds you, pay attention to your emotional cues. Take care of yourself. There are many ways to do this, but you can start by honoring how you feel. Then, seek and cultivate gentler friendships, give some space to the difficult person, look at the situation again later, from a different angle and see if you still feel the same. If so, and you feel strong, consider giving voice to your discomfort, without blame, when the time is right.
I'll build on this in my next update on the Mother-Daughter Way journey, so if you find it helpful or have any questions, please post them here so we can get this started right now!
Blessings,
Janice