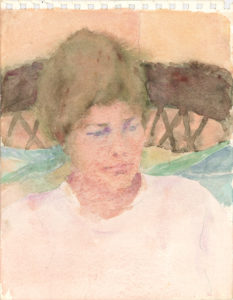 If you pay attention to patterns, you know that clinging to that which fails to love you back is toxic;  you must play your edge if you want to love your life.
When Carrie Fisher wrote Postcards from the Edge, she was playing her edge for all to see. Fisher shared a difficult mother-daughter journey that illuminated the path for others. She died suddenly on Tuesday, and the following day her mother died of heartbreak.
Debbie Reynolds and Carrie Fisher gave an object lesson in how to play your edge.
Because of their achievements as artists and celebrities, this mother-daughter duo brought international attention to a mother-daughter story of love, loss and pain. Although they are remarkable and unique in many ways, they trod a path familiar to many mothers and daughters, myself included.
The watercolor portrait, above, was one of many unfinished, unsigned portraits of me that I found in my mother's studio after she died. Like Fisher and Reynolds, we battled each other during my teens and twenties. I moved 3,000 miles to get away from her. Of course, our pain continued, and through a commitment to playing our edges, we worked our way back together and became close friends and collaborators.
How did we do it? We discovered three keys to playing our edges without setting off mother-daughter bombs:
Ditch Perfectionism
Listen to each other
Forgive all
I write this post on New Year's Eve 2016, my 65th birthday, and I've got a party to prepare. But I've been writing, teaching and working on this for years, and I'll continue to do so. Writers are like painters that way, when we find our subject, we return again and again to reveal more truth. So, for details and stories, please check out my previous blogs, TV appearances, and get on my list now. 
My fervent wish for you — and for myself this year — is for women and girls to play their edges and live full out: tell your truth, don't hold back, and make a difference.
As we open up mother-daughter channels through The Mother-Daughter Way, the future of this tribe of truth-tellers shines bright. We've made wonderful progress by listening and telling stories that have lain in dust or shame, held deeply inside.
Mothers and daughters are destined to affect each others in ways known and unknown. #motherdaughterway, #carriefisher Click To Tweet By telling our stories and sharing our edges, we expand and lift each other. Let's make 2017 a year of high expression and purpose for women and girls devastated by the recent presidential election. You know that your power resides within you, your truth and the tribe of women who play their edges. I love you and I believe in you.
Blessings,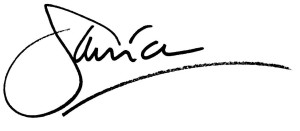 PS: Please enter a comment below and tell me how you'll play your edge in 2017 — I'd love to hear from you and support you any way I can.