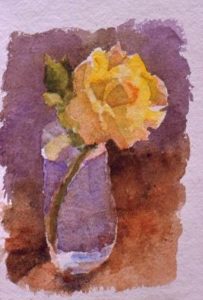 If generosity is a good trait, why does it get tangled up in angst and confusion at this time of year? How can you maintain inner peace in a season of relentless advertising, competitive shopping and expensive gift-giving?
I have been mulling over this question since we focused on the week six theme of generosity with my Mother-Daughter Way ONE goddesses last month. It was easier to manage week 6 during the pilot group last January when I tagged the focus as a week of contemplating abundance. But I am developing a more precise map inward, cultivating the qualities of mindfulness that truly contribute to a transformative Mother-Daughter Way journey. Like an artist with a palette of colors, each tone that you add changes the balance of the picture, and within my exploration of mother-daughter story-telling, word choice matters.
We all crave abundance. But "generosity?"
When you run into resistance about being generous, what is the script in your head? Here are some generosity-killers that run through my head when the impulse to give presses against the critic.
"will I have enough? Is this person ready?

What if they don't like my offering?

What if I look like a fool?

Do I have the time and energy?

What if things don't turn out the way I envision?

What if . . . what if . . ."
I've found, actually, that generosity does cost you. The price is indecision and self-consciousness.
Generosity pushed me out of the "what if" zone and into action
When I launched the first Mother-Daughter Way journey one year ago this week, I was nervous. Would I be able to help others by sharing this path, or was I delusional? Whenever I focused on my fear, I held back. But once I realized how important it was for me to share my gifts, I was flooded with excitement and evidence of the power of faith and action, the power of generosity.
The word generosity is derived from the English, and French, and denotes "of noble birth." Incorporating generosity into your mental framework and daily practice forces you to reach higher, engage with others, and step up to your aspiration.
Generosity does not cost you; generosity expands you.
Let me tell you a little December story. This is my favorite month. I love the lights, the snow, the sense of wonder about the birth of Christ, and the rich memories of past Christmases with grandparents, parents, and old friends and neighbors. I was born on New Year's Eve, so the month ends with a worldwide party that I can always call my own.
My dear husband is not fond of cold weather and snow. Every time he sees the shimmering lights or hears the heater go on, he sees dollar bills burning. He grouses about the decorations, turns off lights, and plays Scrooge to my Sugar Plum Fairy. He jokes about getting an artificial tree or none at all.
This year has been one of change and loss. It wasn't clear if we'd have a real Christmas tree, or any Christmas tree. In my daily meditation and writing practice, I invoked the spirit of generosity and released any Christmas tree expectation. I did so because I love and treasure Paul  more than the smell of pine in the living room, or the twinkle of the lights. If he didn't have the energy or time to put up a tree at our house, I was proud that he had done so for his dear parents. I'd be OK with whatever transpired.
Then, to my delight, he suggested we "get the damn tree."
I thought it might take a few days for the tree to go up, but Paul kept going and put on the lights, and then . . .to my surprise, he started decorating it!
By the time we called it a night, we had finished the bulk of the decorations. The house was transformed.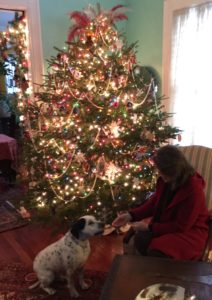 That was my Christmas miracle.
Have you noticed an effect of generosity, or a script that holds you back?
Please reply now in the comments below, as I love to hear from you.
Blessings,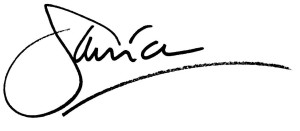 PS: The watercolor above, "Peace Rose," by my mother Alice Steer Wilson, came to my attention when I received an email (as I was starting this blog) from the woman who owns it. Serendipitous generosity!