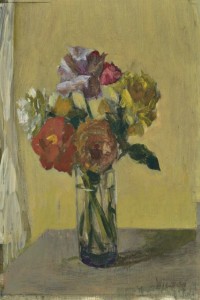 Even when I was an angry teenager, long before my mother and I forged our way back to forgiveness of each other and ourselves, we shared a love of the colors of nature. I was grateful for the beauty of the roses my father grew in our garden, and when I picked a few and gave them to my mother, she expanded the gift by creating the painting above. Later, when I prepared to move across the country, she gave me the painting as a memento.
The 3rd profound shift to lighten and reframe the mother-daughter story is the shift from anger to mercy: kindness, forgiveness and benevolence. (click to tweet) Although I picked them when I was more likely to be flippant than forgiving, these roses have cheered and comforted me for more than forty years, from the walls of every cabin, apartment, or house I've called home. They serve as witness to the lasting power of small acts of care: my father's devotion to our home and garden, my mother's devotion to painting the objects, people and places she loved. The roses inspired a surly teen to bless her mother with a simple gift, and the artist chose to imprint the gift further with her brush.
I have looked at this oil painting almost daily since 1999, when I hung it near my kitchen door. Now, as I consider the power of forgiveness to transform anger, this painting and its story rise to mind. As I studied the image, I was shocked by a detail I'd never seen before. There appear to be two figures in the roses– human shapes within the petals. I wonder if you can see them, too? I noticed the first figure in the foreground of the front-and-center peach-colored rose. The shadow resembles a head and shoulders squared forward, similar to my father. After marveling at that image, I noticed another in the red rose at the top, where a small head-shaped shadow brings to mind the watchful presence of my mother, engulfed in her favorite crimson.
Now when I look at this familiar work of art, I see two figures of love, protection, and source. But they were never there before, at least not in my consciousness. In fact, when I moved 3,000 miles to get away and strike out on my own, I took this little painting with me because it was easy to love and transport. I liked its simplicity, the colors, and the fact that my mother named it "Jan's Bouquet" even though I had given the flowers to her so wasn't it "Alice's Bouquet," or perhaps "Fred's Roses"? After all, my father was the provider and the grower. In the act of giving the flowers, I'd stepped forward in kindness. And in the act of painting, my mother had expanded the kindness. Then, when she gave me the gift, it symbolized her release of control over it, over me, and over our relationship.
There is richness in a story or a picture that is unavailable to a busy, angry or perfectionist mindset. However, the heart responds to kindness and the spirit is always pulled toward beauty and forgiveness.
For the 3rd step of the MOM fix, look for reasons to be grateful. Indulge in them. And once they've done their magic, release perfectionism and practice forgiveness of yourself and each other. When you can turn anger into positive action, you've moved into a new realm of self that will yield much energy, peace and joy.
I hope you will give yourself the gift of mercy and extend it to others, so that the anger triggered by old patterns and habits of speech can be transformed into forgiveness and positive action. Everyone will be grateful.
Please let me know what this brings up for you, by posting a comment below. And if you are ready to share this journey of transformation, it's not too late to join the Mother-Daughter Way workshop, just visit www.motherdaughterway.com.
Blessings,