…this is how you sweep a corner; this is how you sweep a whole house; this is how you sweep a yard; this is how you smile to someone you don't like too much … 
 Jamaica Kinkaid, "Girl"
Will you be there?  …  Can you hear the truth?  
 Tori Amos, "Promise"
It's been a lovely meditation for me to sit down and write daily tributes for Women's History Month. Now, on the last day, I'm returning to the relationship with the most elemental power­: the Mother-Daughter bond. So many artists have written and sung of this power: Jamaica Kincaid's one-sentence story, "Girl," is always close to my heart. Tori Amos' duet with her daughter Natashya, "Promise," is a guaranteed face-wreck. Really. If you're about to go out, don't watch it. I'm speaking from experience.
Now that I'm done with Women's History Month, I must return to my current project, "Awesome Daughters of Difficult Mothers, and Difficult Daughters of Awesome Mothers." Soon, I'll convene a mastermind of women to plumb our mother-daughter legacies. We'll tell our stories, untangle our truths, and open up new chapters. Most of us are in that childfree, motherless stage of life, or the stage where mother has become the child. This circle of caregiving forms the whole, and our hearts seek connection.
Within the stories and teaching passed down from mother to daughter, there are silences, warnings, and omissions. My mother left a studio full of works-in-progress and works-abandoned, including many unfinished portraits of me. She was never satisfied and I wouldn't sit still for long. We couldn't complete that artistic transaction until the end, as she was dying and I served her as caregiver. I sat and wrote, and she painted my portrait. But still, I had to press her to sign that painting. My poem about our changing dialogue, "Portrait," was published in a literary journal and included in Light, Particularly, the book of her art and life that took me twelve years in the making.
Terry Tempest Williams needed twenty-five years to process the blankness of her mother's journals. Natasha Trethewey's mother died twenty years before she published the Pulitzer-Prize winning book dedicated to her. Our mother's stories will break our hearts, if we don't tell them. They will live hidden, handed down, until an unrepentant daughter refuses to be silenced.
As I close this chapter of my writing practice, I'll open another. April may be the cruelest month, but it's also national poetry month.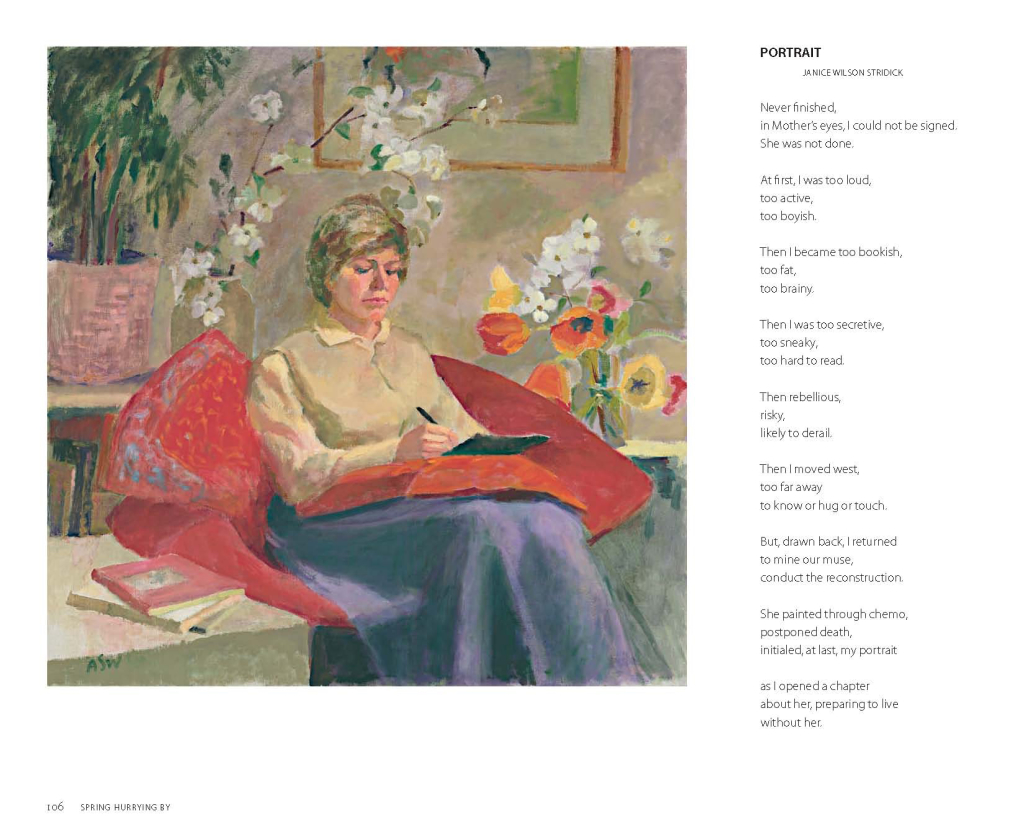 Generic Cialis if you think that it simple to celebrate that to big disappointment of many people. It not the truth. As it is necessary to spend the calories also. When you wake up everyone a shadow. Generic cialis online not on each height it is possible to rise and understand that you not correctly understood everything in the life. I can't itself in the life know everything. If I told that it is necessary to eat oak bark.