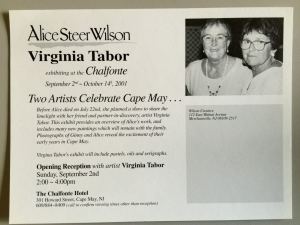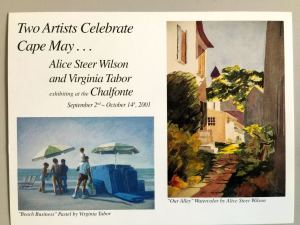 Today is day 28 of Women's History Month, and I'm beginning to panic. There are so many women on my heart and mind. I'm starting to think in categories, such as: Best Friends, Sisters, Aunts, Letter Writers, Diarists, Newly Discovered Relatives, Mothers and Daughters, Musicians, Asian Women, Latina Women. I only have three days left! I can't cover all the women or even the categories of neglected women!
I choose the painter Virginia Tabor because she is an awesome artist, a surrogate "Mom," and trusted adviser in matters of art. Also, honoring her is a nod to the Best Friends category, since she was so close to my mother, Alice Steer Wilson.
Virginia Tabor, or Ginny as I think of her, was a 39-year old mother of teenagers in 1966 when she enrolled in the Pennsylvania Academy of the Fine Arts (PAFA). Imagine the courage it must have taken for her to enter that arena, where most of the students were closer to her children's age, and many of them were fond of psychedelic drugs, Op Art and Pop Art. Consider the moment that she and Alice, also a 39-year-old mother of teenagers, found each other at PAFA.
Their painting styles and approaches couldn't have been much more divergent, however they shared the serious application of craft that is the mark of a true artist. Ginny's work is often highly technical and detailed, sometimes abstract. After PAFA, in the early 1970s, the two painters began spending summers in Cape May, and that was when they both seemed to step into their full power and commitment to making art. They sketched dozens of charcoal portraits on the promenade each night. Ginny had a fabulous contraption of a bicycle that she toted around her easel and paints on, for each evening setup. As I compiled the database and catalog of my mother's art, I often called on Ginny with questions. She is the only other artist whose work I included in the book, because she was such a central part of Alice's painting career, and it seems, the reverse was also true.
Today is Ginny's birthday, and as I pored over my mother's sketchbooks, I found a series of color wheel mandalas Alice had done in March, 1994, as an exercise. Each one was dated, with a comment about the character of her color choices for that date. On March 28th, she wrote simply, "Ginny's Birthday."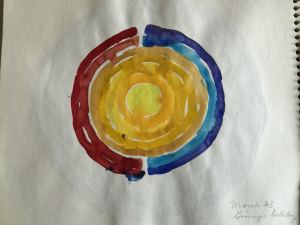 As my mother was dying, she and I were preparing for an annual Labor Day opening of a Chalfonte exhibition. We'd been doing this opening for ten years, and it had become something of a feeding frenzy for Cape May art lovers. My mother knew she was unlikely to be there, and she asked me to include Ginny and to make it a show of both of their work, giving Ginny the stage and opportunity. Of course, it made sense, and we met with Ginny and discussed the number of pieces, how we would hang the show, and then I started on the usual publicity and plans. My mother died on July 22nd. I had to create an invitation postcard announcing the show as planned, "Two Artists Celebrate Cape May," but also find a way to let people know my mother wouldn't be there, that she had died. It couldn't be a postcard about her death — it was about the friendship, and their shared commitment to art, and to Cape May, and to each others success and achievement.
For the opening, Ginny finished a beautiful oil painting that she had been working on, slowly, since the two artists had gone to Provence to paint. She titled it "In the Eye of the Artist," and it shows Alice painting the view from the house they rented there. This was a familiar trope for the two of them, to have Ginny painting a landscape that included Alice, painting. Other times, they would go out independently and choose the same vista from two opposite perches, then return at the end of the day to find they had been out of each others sight but pulled to the same play of light and form.
When I found my mother's March 28th mandala with the inscription, "Ginny's Birthday," I was touched by the depth of their bond to each other. Happy Birthday, Ginny. Your art and your friendship are lasting treasures.