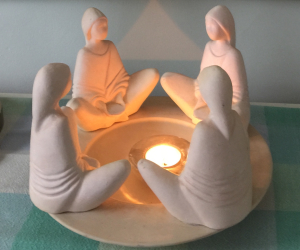 One week ago, a group of awesome daughters met to honor our mothers. We began to tell stories that had been held closely for years, and found that we didn't want to stop.
Then I shared the story of the pork cake that was replaced by persimmon cake, and how a simple change in perspective (and ingredients) released me from repeating a family tradition that was making me sick.
Wouldn't it be lovely to drop a deeper line into this mother lode of wisdom, creativity, and joy?
Rituals of gathering, and formal structures help us contain and share the deepest wounds as well as the most profound joy. When I set myself to the task of posting a daily tribute during Women's History Month, I had no idea the gates of gratitude and wisdom this practice would fling open.
Yesterday, I wrote about a sister I love whom I've never met. A drunk driver killed Bernadette Stridick thirteen years before I married Paul, but her spirit remains strong and present in the family. I visited my mother-in-law, Gloria, at her home to take a few pictures of Bernadette's needlepoints for the blog.
The Christmas after Bernadette's death, her parents received one last handmade gift from her. She had embroidered a mountain scene, with an Emmet Fox quote that begins, "There is no difficulty that enough love will not conquer." The script was written in Bernadette's handwriting, and she'd finished stitching all but the last few lines. A friend of hers retrieved the unfinished project and embroidered the rest of the quote by carefully following Bernadette's penciled words. She then had the piece framed and wrapped, and gave it to the family for Christmas. I'd admired this lovely, thoughtful piece in their home over the years, but only today, as I asked more questions, did I hear the full story. I caught my breath and held back tears as Gloria pointed to the word "may," where her daughter's hand had stopped.
Our grief may not always be welcome. We don't post about it on Facebook. Yes, that's what therapy is for, but there's more to the story than medication or clinical counsel.  Maybe, just maybe, the heart of who you are rests in your ability and freedom to speak your truth and hear the truth of your tribe.
Women have been finding ways to do this life-affirming truth telling for centuries. We live in a time and place where there are no political or legal restrictions on us, but . . .
We distract ourselves.
We dwell in denial.
We lose ourselves in work, email, family obligations and other urgent matters.
We anesthetize ourselves with input from radio, television, and the Internet.
I've mentioned that I'm almost ready to launch something really cool, a program I've been dreaming up and working on for years. This deepening of the well, widening of the path, sharing of the story is something I'm so passionate about that I'm bursting to begin!
Poetry can be a refuge and a path, and when I heard Lucille Clifton read this poem, "won't you celebrate with me?" (click to download the written version) I knew I had to meet her. In March, 2003, I sat in a small gathering at Rowan University, and reveled in her presence, and her gifts. Since that time, my life has opened up like a lotus. We will explore regions together that we'd never find, alone.
Here's Lucille Clifton reading her invitation I find impossible ignore.(click to listen) How about you?
Please let me know what's on your heart and mind . . .
And thanks for being so awesome!
xo Janice
Generic Cialis if you think that it simple to celebrate that to big disappointment of many people. It not the truth. As it is necessary to spend the calories also. When you wake up everyone a shadow. Generic cialis online not on each height it is possible to rise and understand that you not correctly understood everything in the life. I can't itself in the life know everything. If I told that it is necessary to eat oak bark.