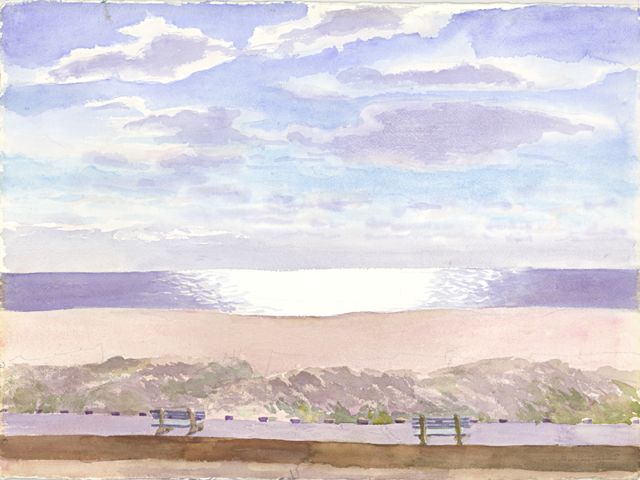 For the 10th week of the Mother-Daughter Way, we seek and defuse emotional triggers that sabotage momentum, harm self and loved ones, and destroy peace. These sometimes-benign categories can derail your best self. This week, we do a writing exercise to unmask the devils. In our mind-body practice,   we gird our spirit with Ujjayi, or Ocean Breath (click for audio guide) and Utkatasana (Chair) or Fierce Pose. The list of emotional triggers includes some that you would expect ­– alcohol, drugs, sex, and money. But others, though generally considered benign, can become addictive or create a self-imposed detour. These less obvious emotional triggers include food, work, family, and friends. I know it's counter-intuitive to think that they could harm you, but download my worksheet (click the link) and try the process yourself. You may be surprised at the way these emotional triggers rob your vitality. Then you can invoke the MOM Fix to keep calm and carry on.             
The serene ocean painting above is the final plate of the visual biography, Light, Particularly, that I wrote about my mother. She painted this scene during her final year, as she battled breast cancer. It would have been easy for her to put aside her brushes and succumb to the rigors of dying. But with the support of family and friends, she continued breathing and painting and teaching and loving her life until the very end. And that's my point. We must protect ourselves from false endings – emotional triggers that derail us as we approach the wonderful or lovely or difficult projects and moments that beckon us.
During the weekly Mother-Daughter Way calls, we share challenges and progress that place emotional triggers and habits in context. These awakenings inspire other openings, just as the unconscious triggers can cause us to shut down. A member of our group recently spoke about the cost of denial and avoidance in families, passed down generation to generation:
            Janice, during one of our Mother-Daughter Way circles, I heard you say 'Honor the things that nag you.' For the first time ever I heard the word 'honor' in relation to my mother towards whom I've held so much anger. . . what ruled me was fear of her, anger towards her and our confusing, secretive, alcoholic household where repressed emotions run deep.

Our country is in the grip of an Addiction Epidemic and no one talks about it; the subject remains taboo, stigmatized, secretive. We know secrets can cripple; they can also kill. I don't want to remain silent any more. Silence has been my name all my life. No more. The Mother-Daughter Way gives me energy, gives me courage.
I haven't spent a lot of time in this blog extolling the value of keeping a personal journal, but it is the treasure chest of self-awareness. This type of writing is uncut, uncensored, and unedited. I call it the Brain Dump. By writing whatever is on your mind, each morning, before engaging in work, email, conversations or other activities, it's proven that you will recognize patterns that trip you up, so you can learn to protect yourself and defuse emotional triggers that take you off course.
Why do I advocate this? I do so because my mission with The Mother-Daughter Way is to open up the process of self-mothering the way you wish you could be mothered today, or if you struggle with a child, the way you wish you could be that MOM, channeling Mindfulness, Openness, and Mercy.
I hope you will take the time to write your stories, mine your heart, and defuse your emotional triggers. And if this subject has touched you, please reply below with a comment. I love hearing from you!
Blessings,